Mission
_____________
Middle school youth coming to know Christ via personal encounter
Prayer · Socials · Service · Faith Sharing
Education · Food · Games · Discussion
_____________
*Desire to invest in the youth of our parish?
Contact the parish office at 513 521-8440.
This year we are creating a CORE Team of adults
to help lead our youth closer to Christ.
FORMS
Events
Get Involved in the Life of Your Parish!
Service @ St. Ann's: become part of the parish life!
Chicken Dinner | Bunco | Parish Picnic | Parent's Night Out | Youth Choir
Contact the Parish Office at 521-8440 if you'd like more information on how to get involved in parish life.
Summer 2018
Midwest AMP Fest: All Day Youth Rally
Totus Tuus Summer 2018 (St. Ann Catholic Camp)
Westside Youth Ministry POD- Middle School Summer Camp (July 31-Aug 3)
---
Totus Tuus Summer Camp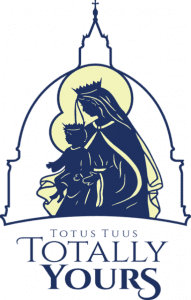 Totus Tuus Summer Camp
WHO: Youth grades 1-6 and 7-12
WHEN: June 10-15 [youth in grades 1-6: Mon.-Fri. 9:00 am -2:30 pm | youth in grades 7-12: Sun.-Thur. 7:00-9:00 pm]
COST: $15 per child/$30 family max.
You won't want to miss this great week full of FUN – everyone is welcome!
TOTUS TUUS, Latin for "Totally Yours," is a week-long summer catechetical youth program that combines Catholic religious instruction and having FUN!!! A team of college-age students and seminarians are coming to the parish June 11-15. The youthfulness and energy of the teachers is an inspiring way to share the faith and their enthusiasm is contagious, so come out and join us!!! TOTUS TUUS is for school children going into grades 1-6. The day includes catechetical instruction, songs and skits that are silly but teach the faith, encounters with the sacraments, particularly Confession and Eucharist, and time for games and recess. For teens, those entering 7 – 12 grades, a teen program of TOTUS TUUS is Sunday-Thursday 7:00 pm – 9:00 pm with more in-depth discussions.
Register by Tuesday, May 29. Please return to Danielle at the parish office or at dhart@saintannparish.org by May 29.