"And at once the Spirit drove Jesus into the desert and he remained there for forty days and was put to the test by Satan. He was with the wild animals, and the angels looked after him" (Mark 1:12-13).
Lent is inspired by those forty days Jesus spent in the desert prior to beginning his ministry. Interestingly, the Gospel of Mark reveals to us that immediately after John baptized him in the Jordan River, Jesus was driven by the Spirit into the desert to be tested by Satan. It was during this time of testing that Jesus' resolve and identity were called into question by Satan himself. But when Jesus emerged from the desert he began to proclaim the Gospel and make disciples (see Mark 1:14-20).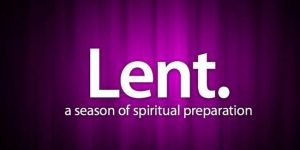 Lent gives us the opportunity to be led into the desert as well, allowing us to remain there for forty days, and challenging us to be tested. The Gospel of Mark uses the word "test" in the sense of proving and purifying someone to determine readiness for the task at hand. The church provides some traditional guidelines for this Lenten testing: prayer, fasting and almsgiving.
How we integrate these three guidelines is a personal decision. But let us remain mindful that the desert story of the Gospels is our story.  Let us take advantage of this Lenten season to embrace an experience and pray that we emerge from our personal desert prepared to proclaim the Gospel and become more devoted disciples of Christ Jesus.
Fasting: Ash Wednesday, Feb. 14, 2018, and Good Friday, Mar. 30, 2018 are days of abstinence from meat and also days of fast, that is, limited to a single full meal. The other Fridays of the season of Lent are days of abstinence from meat. The law of abstinence binds all Catholics 14 years and older. The law of fasting binds all Catholics from their 18th birthday until their 59th birthday (canons 97 and 1252). People should seek to do more rather than less. Fast and abstinence on the days prescribed should be considered a minimum response to the Lord's call to penance and conversion. The above information was published by the Archdiocese in their monthly clergy communication.
Saint Ann Lenten Schedule
Mardi Gras: February 13th: Celebrate with us at the Saint Ann Mardi Gras, Tuesday, February 13th.  Come join in the family fun before the start of Lent.
Ash Wednesday: February 14th – 8:30 am and 7:00 pm Mass
"Leave the Lights On" (Confession offered by every church in the archdiocese): February 27th, 7:00 pm to 9:00 pm
Stations of the Cross with the Forgiven Series Presentation: Fridays 7:00 pm – February 16th, 23rd, March 2nd, March 9th, March 16th, March 23rd
Eucharistic Exposition:
Thursdays, 9:00 am – 10:00 pm, Feb. 15, 22, Mar. 1, 8, & 22
Saturdays, 9:00 am – 10:00 am, Feb. 17, 24, Mar. 3, 10, 17 & 24
Parish Reconciliation Service: March 13th, 7:00 pm
Holy Thursday:  March 29th, Mass 7:00 pm with exposition until 10:00 pm
Good Friday: March 30th
Stations 12:00 pm
Confessions 12:30 to 2:30
Good Friday Service 3:00 pm
Saturday: March 31st, Easter Vigil 8:30 pm
Easter Sunday: Masses 8:00 pm, 9:45 pm and 11:30 pm