The Saint Ann Youth Choir meets every Sunday from 10:15-11:15, and participate in the Mass at Christmas, Easter, and a few other feast days during the year. Our hope in offering the
Youth Choir each week is that it will allow participation for your child(ren) to be part of
the music ministry and have the opportunity to partake in other events as well.
Children participating in the choir will NOT be required to attend practice every week.
This is a wonderful opportunity to have your child or children engage in what could possibly be a life long ministry for them, and learn that through our giving of time and talent, we give glory to our Lord.
We look forward seeing you in Sept in room 2!
---
Meet your director Laura Carroll!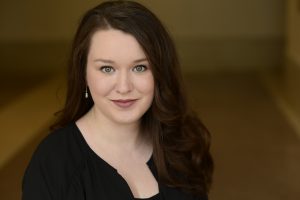 Hello St. Ann Parish! I am so excited to be working with our St. Ann youth choir again this year! St. Ann parish has been such a welcoming community and I have enjoyed getting to meet many of you at the weekend Masses.

A little about myself:  I grew up in New Jersey just outside of New York City.  I completed my degree in Music Education from the University of Dayton in 2013. I moved to Cincinnati in 2014 to begin teaching. I am entering my fifth year as the Director of Choirs for the Finneytown School District. My first experience singing was with my church choir during my 8th grade graduation mass.

Singing has been such an integral part of my faith and I feel so blessed to be able to share the gift God has given me with you every week. 

I am so excited to hear them praise God through song. Aren't you?!  As St. Augustine says, "He who sings, prays twice,"  and there is nothing sweeter than hearing our children sing. 

In joy, in song, in Christ,

~Laura Carroll
---