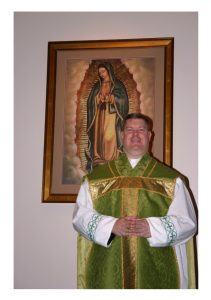 I was ordained a priest for the Archdiocese of Cincinnati on May 19, 2007.
Orginally from Maryland, I came to Cincinnati in 1990 to attend Xavier University. I began my studies at Mt. St. Mary's Seminary of the West in Cincinnati in 2001.
I served at several parishes in the Archdiocese before becoming pastor at St. Ann. I was assigned pastor at St. Ann in July of 2013. St. Ann is a wonderful parish, and I hope you think so too. I look forward to many great years ahead.
If I can be of assistance to you or your family, please give me a call at the parish office – 521-8440.
Fun Facts about Fr. McCarthy
Hobbies
Favorite Sports Teams
Favorite Foods
Favorite Desserts
Favorite Restaurants
Favorite Saints
Golfing
Napping
Cooking/Baking
Washington Redskins
Cincinnati Reds / Baltimore Orioles
Washington Capitals
McDonald's
Montgomery Inn
Skyline