Saint Ann Christmas Season – Mass times, Christmas Concert and times for devotions
Mass Times
Christmas Eve – December 24
5:30pm & 10:00pm
Christmas Day – December 25
8:30am & 10:30am
---
Feast of the Holy Family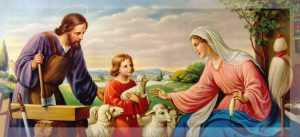 December 30 – 4:30pm (vigil)
December 31 – 8:00am, 9:45am, & 11:30am
---
Christmas Concert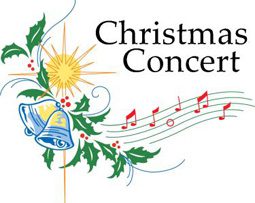 Friday, December 29 – 7:00pm
Chris Schaljo, our Music Director, has great fun planned for a Saint Ann Christmas. Join in a wonderful season celebration.
---
Solemnity of Mary, the Holy Mother of God Mass Times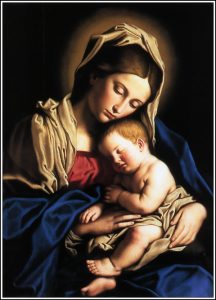 January 1, 2018
8:30am & 10:30am
(This is not a Holy day of obligation this year.)
---
FINE DINING RETURNS TO MONSIGNOR LUNN MANOR for one night only…
January 13, 2018.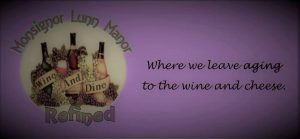 Enjoy a sumptuous four course dinner, complete with four specially chosen wines, for this one-of-a-kind fundraiser at St. Ann. Specialty appetizers and salad will be followed by a generous dinner of vegetables, potatoes and grilled chicken and steak and topped off with an incredible dessert chosen just for this occasion.
Our sommelier from Heidelberg Distributors will choose wines to pair with each course. Tickets for this event are $40.00 per person and are available after the Masses on the weekends of December 23/24 and January 6/7 if not sold out! In the past, tickets have sold out quickly so mark your calendar snow.
If you wish to participate but do care to attend the dinner,special raffle chances will be sold in the Gathering Space on the same weekends. Check out the lovely wine rack we will have available this year.
---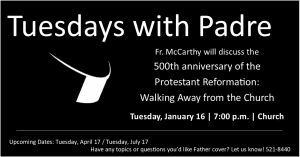 Join us for 
Tuesdays with Padre
Father McCarthy will be discussing the recent 500th anniversary of the Protestant Reformation from a Catholic perspective.
TUESDAY, JANUARY 16  |  7:00pm  |  In The Church
Future Dates: Tuesday, April 17 / Tuesday, July 17
Have any topics or question you'd like Father to cover? Let us know! 521-8440
---
Year Round Socials:
Parents Night Out – Babysitting Program