Thank you for visiting with us. 
Fish Fry Fridays!
During the Lenten season we will have our annual Fish Fry (CARRY-OUT ONLY) every Friday from 4-6:30pm, followed by Confession, Stations of the Cross at 7pm, and then the Lenten Series at 7:30pm.
Below is the menu: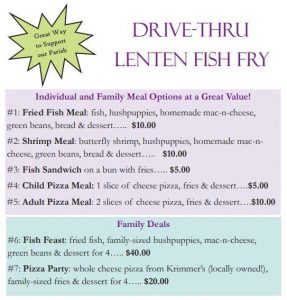 Visit our Facebook page for the many things going on here at Saint Ann.
And make sure to check back for our upcoming social events to be announced in the near future.
---