Adoration is the first attitude of man acknowledging that he is a creature before his Creator. It exalts the greatness of the Lord who made us and the almighty power of the Savior who sets us free from evil. Adoration is homage of the spirit to the "King of Glory," respectful silence in the presence of the "ever greater" God. Adoration of the thrice-holy and sovereign God of love blends with humility and gives assurance to our supplications.
—Catechism of the Catholic Church, no. 2628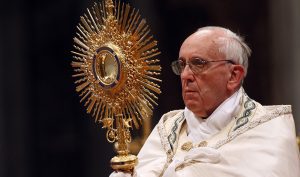 Exposition Times:
Join us at Eucharistic Exposition
Thursday 9:00 AM to 7:00 PM with Sacrament of Reconciliation 5:30 to 6:00 and Benediction is at 6:45 PM
Also, 2nd and 4th Saturday following the 8:30am Mass-10:00am
Please join us in prayer. We are in need of additional committed adorers for an hour each week on Thursdays.  If you are interested in volunteering please contact Claudia at the parish office                 (521-8440).