What do Catholics Believe? Click Here
Interested in becoming Catholic? Click here to learn more about our RCIA program.
Current & Upcoming Classes
---

Check out all of our online education!
Watch videos and download resources, ebooks, and audio files to learn about our Catholic faith from the comfort of your home.
Would you like to begin a discipleship group with your friends? Contact the parish office for more information.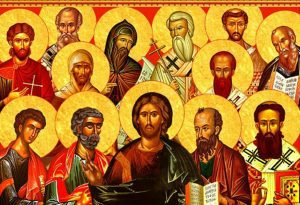 The Birth, Growth, and Development of the Church
You've heard the stories of Jesus and the Apostles, but what happened after them? How did the Church get to where it is today? Come learn about the rich history of the Catholic Church in this study led by Fr. McCarthy.
Thursdays | 7:00 p.m. | Trinity Rooms
Mar. 1, 8, 15, 22, April 19, 26, May 10, 17, 24, 31
Come to one class or come to every class, your love of the faith is sure to be enriched by its stories!
There is no registration for this class, just come ready to learn.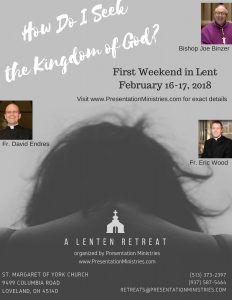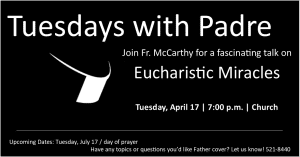 Join us for Tuesdays with Padre
Father McCarthy will share a fascinating talk on Eucharistic Miracles.
TUESDAY, APRIL 17  |  7:00pm  |  Church
Future Dates: Tuesday, July 17 / Day of Prayer
Have any topics or question you'd like Father to cover? Let us know! 521-8440
---
Parent Formation Night
Parenting is a big job and can feel overwhelming at times. Let us help support you in this job …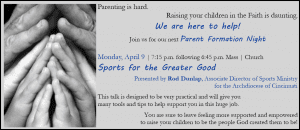 ---
Other Available Classes Upon Request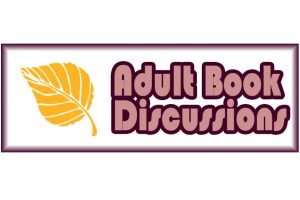 Book Discussion
We hand out books during Christmas and Easter to the parish. Please let us know if you would like to form a book group to discuss the books received!
Programs Available:
Sacraments: 
Understanding:
Devotion:
---
"Full authority has been given to me both in heaven and on earth; go therefore and make disciples of all nations. Baptize them in the name of the Father, and of the Son, and of the Holy Spirit. Teach them to carry out everything I have commanded you."
-Matthew 28:18-20