What do Catholics Believe? Click Here
Interested in becoming Catholic? Click here to learn more about our RCIA program.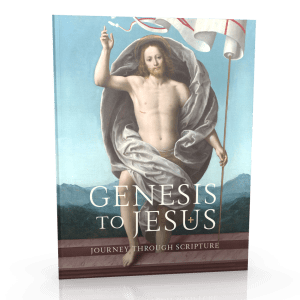 Genesis to Jesus
What is the Bible, where does it come from and what is its purpose? How are Catholics supposed to read the Bible and what story does it tell? These are the ever-important questions answered in Genesis to Jesus. Join us to learn the basic Catholic principles for reading Scripture and to survey the broad outlines of the books of the Bible and their place in the story of salvation.
Thursdays | 7:00-9:00 pm
May 9, 16, 23, June 6, 13, 20
Trinity Rooms
May 9
Lesson 1: Reading Scripture with the Church
Lesson 2: The Old & the New
May 16
Lesson 3: Covenant with Creation
Lesson 4: Fall from Grace
May 23
Lesson 5: A New Beginning
Lesson 6: Our Father in Faith
June 6
Lesson 7: From Egypt to Sinai
Lesson 8: Wandering in the Wilderness
June 13
Lesson 9: Rise of the Covenant Kingdom
Lesson 10: Features of the Kingdom
June 20
Lesson 11: New Moses, New Covenant
Lesson 12: The Kingdom Transformed

Lectio: Philippians
TOWARDS THE END OF HIS LIFE, UNDER ARREST AND AWAITING TRIAL IN ROME, SAINT PAUL WRITES A SHORT BUT POWERFUL LETTER TO THE PHILIPPIANS. PAUL'S AFFECTION FOR THE CHRISTIAN COMMUNITY AT PHILIPPI IS APPARENT FROM HIS OPENING WORDS. THE PHILIPPIANS WERE NOT ONLY PAUL'S SONS AND DAUGHTERS IN THE FAITH BUT ALSO HIS PARTNERS IN SHARING THE GOSPEL OF JESUS CHRIST.
At the heart of this letter is Paul's eloquent hymn of Christ's total gift of self, the model for Paul's life. With his words and the example of his life, Paul exhorts the Philippians to have the mind of Christ, to live a life worthy of the Gospel, and, by God's grace, to gain Christ.
Mondays | 7:30-9:00 | Trinity Rooms
June 10
Paul & the Philippians
June 17
Partnership in the Gospel
June 24
Friendship in Christ
July 1
The Mind of Christ
July 8
Imitatio Christi
July 15 (will not be in the Trinity Rooms; likely in BMH, Kathy is checking)
All Things in Christ

Check out all of our online education!
Watch videos and download resources, ebooks, and audio files to learn about our Catholic faith from the comfort of your home.
Would you like to begin a discipleship group with your friends? Contact the parish office for more information.