What do Catholics Believe? Click Here
Interested in becoming Catholic? Click here to learn more about our RCIA program.
Beginning January 12th: The Gospel of Mark
Is the Gospel of Mark only a "condensed" version of the life of Christ? What does it offer us that the Gospels of Matthew, Luke, and John do not?
Join Dr. Tim Gray in this powerful fourteen-part series to discover the Gospel of Mark like  never before. Immerse yourself in this action-packed Gospel that offers Saint Peter's account of Christ's life and teaching.
Delve deep into the theme of the "way" and true discipleship and see how Jesus reveals his identity in authoritative action and word.
Classes will be:
---
Beginning May 7th: Lectio Eucharist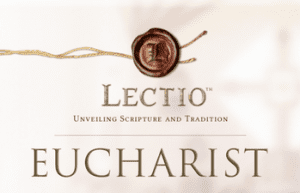 THE LAST SUPPER. COMMUNION. THE GREAT FEAST. BREAD AND WINE. THE HOLY EUCHARIST.
Jesus said, "This is my Body" and, "This is my Blood." Some say they're merely symbols of remembrance. Others say they're really the Body and Blood of Christ, but can't explain how that's possible. The Eucharist is the center-point of the Mass–but why?
The answers are here. Renowned teacher Dr. Brant Pitre guides us through Scripture, history, and Church teaching to illuminate the wonder and miracle of the Eucharist.
---

Check out all of our online education!Watch videos and download resources, ebooks, and audio files to learn about our Catholic faith from the comfort of your home.Would you like to begin a discipleship group with your friends? Contact the parish office for more information.