We are the Catholic, Christian community of Saint Ann Parish. Although we are diverse in so many ways, we are one because of our faith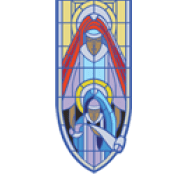 in Jesus Christ as our Lord and Savior. All that we are and do comes from this faith. We, as a Catholic Christian community, are dedicated to bring Christ to all who seek him, and to live the Gospel so that we can be a sign of God's love in this world.
Our website provides information concerning our parish that is intended for guests and those visiting our parish to determine if we are a good match for your family. Information that you will find in our website includes our location, directions, Mass times, opportunities for faith formation, list of our active ministries and socials, weekly bulletins and newsletters, links to our parish app and social media pages, access to FORMED (our Catholic Netflix) and how to sign up for regular "Flock" notes.
If you are a member of our parish or are considering joining our parish family, we're happy to have you here.
Registro de la Iglesia Hispana
A parish is a community of believers and a spiritual family that is supportive and loving. It can be a place to grow spiritually, to put your faith in action, and to use our gifts of time and talent as disciples of Christ. We look forward to answering any questions you may have. In the meantime, please look through the resources we've made available on these pages:
I'm interested in learning more about the Catholic Church.
Thank you and welcome to our Parish family!