Parish Youth Faith Formation Program
The Parish Youth Faith Formation Program is for students in grades 1-7 and meets on Mondays during the school year from 6:30-8:00pm. We will be using a comprehensive faith formation curriculum, Pflaum Gospel Weeklies, beginning with foundational lessons straight from the gospels, and made applicable to daily life through youth catechisms. This engaging series will help begin the dialogue with your child(ren) through the simple and comprehensive, weekly content we send home. In order to encourage foundational discussion about faith and life at home, we provide unique weekly discussion ideas and parent resources which can be found by clicking on the Pflaum link above.
The classroom education time will be enhanced with monthly opportunities to attend Mass and additional opportunities for the Sacrament of Reconciliation, learning about vocations, completing service projects, and May Crowning.
Registration is required and there is a $40 fee/student for the year with a maximum of $80/family.
—-
Please register for our Parish Religious Education Program using the form below.
Youth Faith Formation Calendar – 2017-2018
Youth Faith Formation Handbook
Classes begin on Monday, September 11th, 2017 and run through Monday, May 21st, 2018 from 6:30-8:00 p.m. in the OLG classrooms.
*If you are interested in participating in a Home Study program, please email your inquiries to the faith formation office: faithformation@saintannparish.org
---
Totus Tuus Summer Camp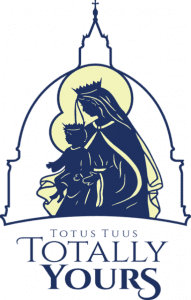 Totus Tuus Summer Camp
WHO: Youth grades 1-6 and 7-12
WHEN: June 10-15 [youth in grades 1-6: Mon.-Fri. 9:00 am -2:30 pm | youth in grades 7-12: Sun.-Thur. 7:00-9:00 pm]
COST: $15 per child/$30 family max.
You won't want to miss this great week full of FUN – everyone is welcome!
TOTUS TUUS, Latin for "Totally Yours," is a week-long summer catechetical youth program that combines Catholic religious instruction and having FUN!!! A team of college-age students and seminarians are coming to the parish June 11-15. The youthfulness and energy of the teachers is an inspiring way to share the faith and their enthusiasm is contagious, so come out and join us!!! TOTUS TUUS is for school children going into grades 1-6. The day includes catechetical instruction, songs and skits that are silly but teach the faith, encounters with the sacraments, particularly Confession and Eucharist, and time for games and recess. For teens, those entering 7 – 12 grades, a teen program of TOTUS TUUS is Sunday-Thursday 7:00 pm – 9:00 pm with more in-depth discussions.
Register by Tuesday, May 29. Please return to Danielle at the parish office or at dhart@saintannparish.org by May 29.