Thank you for visiting our Mass+... Web Page. What is Mass+…? Mass+… is our vision of the Sunday Experience. It is a time to better serve God and one another, to grow in holiness, to proclaim the Good News, and to foster community within and outside the parish.
Our Mass+… program happens in between the 9:00 A.M. and 11:30 A.M. Masses on most Sunday mornings. This allows an hour and 15 minutes between Mass times to participate in activities and events as simple as breakfast, in a ministry or in faith formation.
We also offer babysitting and youth programs during this time to allow parents to be more fully engaged.
Click here for Father McCarthy's presentation on The Creed (August 11, 2019

Mass+…

)
Check out our upcoming
Mass+… 
activities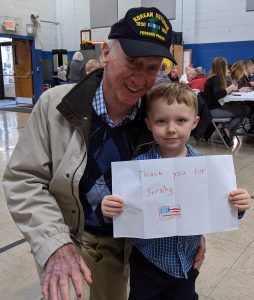 Last week, November 10th, we were happy to see so many parishioners were able to join us for the Veteran's Pancake breakfast. Parishioners of all ages gathered as a community to pay respects to those who served.
Join us for Mass+… this week:
November 17th: Mass+… Vocation – The Sacrament of Marriage, Presented by Father McCarthy
Also…
Babysitting is provided in Room 4 of the school hallway and will be available during 9:00am Mass, 

Mass+…

and the 11:30 A.M. Mass.
Preschool Religion classes are also scheduled.
Thank you for joining our community in prayer.
---
Future Mass+…
November 24th: Mass+… GPS (Generosity, Prayer, Service), Presented by Tim Clifford, Director of Stewardship and Development
December 1st: Mass+… St. Nicholas Breakfast & Family Ornament Activity