What is Mass+…?  Mass+… is our vision of the Sunday Experience. It is a time to better serve God and one another, to grow in holiness, to proclaim the Good News, and to foster community within and outside the parish. Our Mass+… program happens between the 9:00 A.M. and 11:30 A.M Masses. This allows an hour and 15 minutes between Mass times to participate in activities and events as simple as breakfast, in a ministry or in faith formation. We also offer babysitting and youth programs during this time to allow parents to be more fully engaged.
Babysitting will be returning in August.  Children are ALWAYS welcome and we encourage families to attend Mass together. This program allows parents to drop off their young children, infants to 5 years, so they can attend Mass without distraction, if they so choose. All adult babysitters are Safe-Parish (formerly known as VIRTUS) trained. Check by the hospitality room for more details on this program.
Upcoming Mass+…

Events
The theme for this season of Mass+… will focus on Eucharistic Miracles. We will offer a variety of presentations and outside speakers. Make sure to check out the displays in the Gathering Space and Trinity Rooms depicting these miracles throughout the year.
Sunday, August 1

:  Season 4 Kicks Off!

Join us Sunday, August 1 in the Trinity Rooms as season 4 of Mass+… takes off with a presentation on Eucharistic miracles.  Babysitting will be available in Room 4 of the school hallway for little ones, 0-5 years old.
August 8

:  Beacons of Light Update

Father McCarthy has been very open about the Archdiocese's "Beacons of Light" program which will impact all of the parishes within the Archdiocese of Cincinnati. On Sunday, August 8, Father will give us an update on the program and share with us any current details.

Please continue to pray for the decision makers, our pastor and our parish, as we move through this process.
August 15

:  Ministry and Groups

Each month, the many ministries and groups of St. Ann are welcome to meet during Mass+…  This month, the men's association will meet in Room 22 and the Respect Life Group in the Trinity Room 1.
Mass+…

Presentations
The Beatitudes. Presented by Doug Moore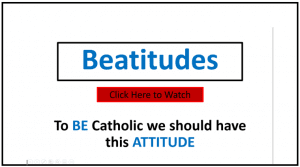 The Search… What are you looking for? Presented by Father McCarthy
What does it mean to be Catholic? presented by Father McCarthy
Assumption of Mary. Presented by Father McCarthy
Staying Connected: Saint Ann is there for you across different media platforms. Presented by Tim Clifford.