What is Mass+…?  Mass+… is our vision of the Sunday Experience. It is a time to better serve God and one another, to grow in holiness, to proclaim the Good News, and to foster community within and outside the parish. Our Mass+… program happens in between the 9:00 A.M. and 11:30 A.M. This allows an hour and 15 minutes between Mass times to participate in activities and events as simple as breakfast, in a ministry or in faith formation. We also offer babysitting and youth programs during this time to allow parents to be more fully engaged.
Upcoming Mass+…

Events
September and October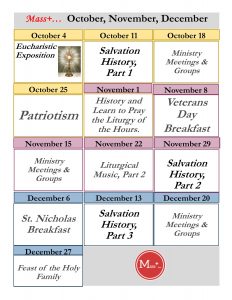 Mass+…

Presentations
The Beatitudes. Presented by Doug Moore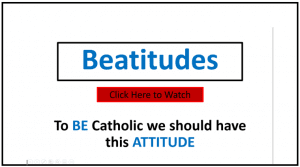 The Search… What are you looking for? Presented by Father McCarthy
What does it mean to be Catholic? presented by Father McCarthy
Assumption of Mary. Presented by Father McCarthy
Staying Connected: Saint Ann is there for you across different media platforms. Presented by Tim Clifford.