What is Mass+…?  Mass+… is our vision of the Sunday Experience. It is a time to better serve God and one another, to grow in holiness, to proclaim the Good News, and to foster community within and outside the parish. Our Mass+… program happens in between the 9:00 A.M. and 11:30 A.M Masses. This allows an hour and 15 minutes between Mass times to participate in activities and events as simple as breakfast, in a ministry or in faith formation. We also offer babysitting and youth programs during this time to allow parents to be more fully engaged.
During this time of social distancing restrictions, we are still offering in-person sessions. Many activities are also live-streamed to make sure all of our parishioners have access to the various programs. Babysitting and pre-school are currently suspended, however we are looking forward to bringing these programs back in the fall.
Upcoming Mass+…

Events
Sunday, April 11

: Divine Mercy Sunday

Divine Mercy Sunday is celebrated on the Sunday after Easter. Our music director, Becky Schoenfeld will lead us in praying the Divine Mercy Chaplet in church after the 9:00 a.m. & 11:30 a.m. Masses.
Sunday, April 18

: Ministry Meetings & Groups

Each month, the various ministries and groups of our parish have the opportunity to meet during Mass+…. This week, Respect Life will meet in Room 22 and the men of SAMA will meet in Trinity Room 1. The theme for the the SAMA presentation is Authentic Masculinity: learn how to be a hero to others. There will also be a talk on Brotherhood: building close friendships with other men of faith. All men are welcome to participate.
Sunday, April 25

: Good Shepherd Sunday

Good Shepherd Sunday is celebrated on the third Sunday of Easter. It is a worldwide day of prayer for vocations to the priesthood. Join us in the Trinity Room to listen to a talk on vocations by Father McCarthy and our seminarian, Nick Emmerling.
Mass+…

Presentations
The Beatitudes. Presented by Doug Moore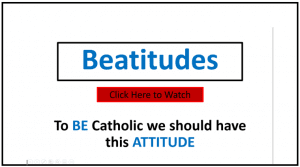 The Search… What are you looking for? Presented by Father McCarthy
What does it mean to be Catholic? presented by Father McCarthy
Assumption of Mary. Presented by Father McCarthy
Staying Connected: Saint Ann is there for you across different media platforms. Presented by Tim Clifford.