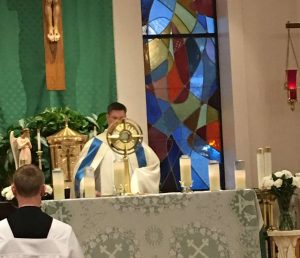 A Baptist minister once spoke to a Catholic congregation and acknowledged he did not believe that the presence of Jesus comes to us in the Eucharist.  However, he respected the Catholic belief and commented on what a wondrous event it must be during the Mass.
The minister went onto comment about how great God is and how wondrous creation is: the Universe, our Earth, Nature and most importantly ourselves.  Then he finished his comments saying that if he was Catholic how he would feel compelled to crawl into church humbled before God's presence, the Eucharist.
We as Catholics may not crawl into church but we do worship the presence of Christ in many ways and many of us do feel humbled by the wonder of God.  We outwardly acknowledge the wonder of God and humble ourselves before him in how we enter church.  We genuflect or make a profound bow honoring that our Lord is present to us in the Eucharist on the altar.
We also make the sign of the cross because that is what marks us as followers of Christ.  The sign of the cross reminds us of his life, death and resurrection.  It reminds us God is God our Father, Jesus and the Holy Spirit.  And, it reminds us God desires that we are in communion with him in this life and heaven in the next eternally.
Many of us especially feel the wonder of God when we have the opportunity to sit in quiet meditation during Eucharist Exposition. Parishioners sit quietly focused on the altar looking on God's presence on display. Rosaries are being prayed and bibles are being read.  Some people sit in quiet meditation thinking about their life or their day, their loved ones, their blessings and the challenges in their lives.
We all need to set aside time for ourselves to collect our thoughts, remind ourselves what is important, what we need to do to get though our days and hopefully to appreciate the things we do for ourselves and others each day.  Eucharistic Adoration is the time when Jesus is most present to us outside of Mass. He is able to gaze upon us as we adore him.  He is able to help us see who we are and who he calls us to be in his love.
Join us at Eucharistic Adoration so in the presence of God you set aside that time to contemplate these very things for your spiritual self.  And, know God who wants to be in communion with us; wants to hear our prayers; wants you to be a part of him; and wants to bring healing to your life.
*****
St. Ann's weekend masses, Saturday 4:30pm Vigil, Sunday 8:00am, 9:45am and 11:30am.
For more information on St. Ann's Mass Schedule, visit our Web Site!