During September, October and November, the parish schedule will be adjusted: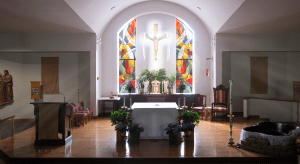 The church doors will be unlocked at the normal times 8:00 a.m. Sundays / 5:25 p.m. Mondays /7:30 a.m. Tuesday – Friday / 7:30 a.m. every 2nd & 4th Saturday / 3:30 p.m. Saturday vigil
Thursday Confessions (5:30 – 6:30 p.m.) will not take place and will resume in December when Father McCarthy
returns.
Saturday Mass & Confession schedule will remain the same (second and fourth Saturdays).
Funerals The parish office is making a list of priests who might be available for funerals; please be patient while
Father is on sabbatical.
Anointings Hospitals have chaplains (Catholic priests) available for anointings. The parish office will do its best to
find a priest, but for emergencies, call a nearby parish.
Priest schedule will be listed in the bulletin and on the website calendar. Please allow for changes