The Eucharist is a miracle, the very Presence of our Lord. We celebrate Jesus's gift to us at every Mass when the host is consecrated
and transformed from bread into His body. His body remains in the tabernacle for us until Exposition. We are challenged to
understand and, through faith, accept the God Who created the universe, took on a human form as Jesus and became a sacrifice
to show His infinite love for us.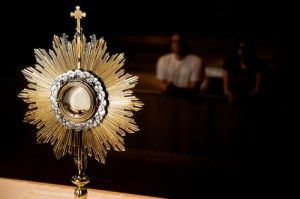 The Eucharist is Jesus truly present – Body, Blood, Soul, and Divinity! At the moment of Consecration during the Mass, the gifts of bread and wine are transformed (transubstantiated) into the actual Body and Blood of Christ, at the altar. This means that they are not
only spiritually transformed, but also actually (substantially) transformed into the Body and Blood of Christ – the True Presence.
Our Lord waits for us to come to Him at Mass, and we also have the opportunity to go to Him at Eucharistic Exposition. He wants us to come to Him. He waits for our acts of faith, adoration, love, thanksgiving, charity, repentance, and reparation that we can offer as we
contemplate His Divine Majesty in the Blessed Sacrament. (St. Pope John Paul II)
We all need time to ourselves to collect our thoughts, remind ourselves what is important, what we need to do to get through our days and, hopefully, to appreciate the things we do for ourselves and others each day. Eucharistic Exposition is the time when Jesus is
most present to us outside of Mass. He is able to gaze upon us as we adore Him. He is able to help us see who we are and who He calls us to be in His love.
So, please join us for just one hour a week. How would you spend that hour in prayer? Reflect on the blessings in your life. Read from the literature available to those attending Exposition. Say the rosary, meditating on the mysteries that take us through the life of Christ.
Or, simply gaze upon the monstrance and speak to God.
During that hour, the church is still. Parishioners who sit quietly with you are all focused on the altar, looking at God's Presence on display. He will be there for you to see Him, feel Him and hear Him. Is there any other place that can capture your imagination and turn it
into an appreciation for God's Presence and revitalize your faith?
Thursday 9:00 a.m. to 7:00 p.m. Benediction at 6:45 p.m.
Sacrament of Reconciliation 5:30 to 6:00
Saturday 9:00 a.m. to 10:00 a.m.