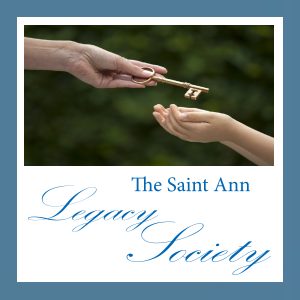 As we have mentioned previously, the Renew Tree's roots are popping up some of the pavers on the plaza entering church, creating a safety issue (and an ugly orange cone). We are going to have to remove the tree and roots from that area in the very near future. We will be moving the dedication stone into either an area in the new Legacy Garden, which will be just to the left of the current location, or to another tree in the area around the St. Ann statue. We know the special meaning this tree and stone have to those who participated in that renewal process.
The Legacy Garden will be a lasting tribute to those who have remembered St. Ann in their final plans. Over the years we have had many of our parishioners leave us substantial gifts through their wills and estate planning. We have formed the St. Ann Legacy Society to honor those folks and look to build up the Society in order to assist with future needs of the Parish. The garden will be one part of our way to thank them. While most people who think of their spiritual home in their plans do not necessarily want to be recognized, we feel that the recognition in this simple way will work as a lasting tribute to them and a valuable example for generations to come.
Plans for the Legacy Garden will be unveiled in the near future. The Legacy Garden itself will signify another renewal of St. Ann as we move into the new Mass+ era.