Day 5 Novena Prayers
Glorious St. Ann, filled with compassion for those who invoke you, with love for those who suffer, heavily laden with the weight of my troubles, I knee at your feet and humbly beg you to take my present need under your special protection. (mention your request).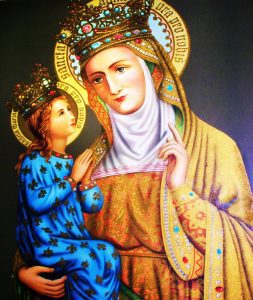 Vouchsafe to recommend it to your daughter, the Blessed Virgin Mary, and lay it before the throne of Jesus. Cease not to intercede for me until my request is granted. Above all, obtain for me the grace to one day meet God face to face, and with you and Mary and all the angels and saints praising Him through all eternity. Amen.
Pray for us, Saint Anne. That we may be made worthy of the promises of Christ.
O Jesus, Holy Mary, St. Ann, help me now and at the hour of my death. Good St. Ann, intercede for me.
Now, pray the Prayers for the particular Day.
Day 5
Hail, all-powerful Lady. By God's special favor, grant consolation to those who invoke you. Procure for them the eternal riches of heaven, and like a good mother, success in their temporal affairs as well. Good St. Ann, obtain my deliverance from the punishment which my sins deserve. Obtain for me success in my temporal affairs; especially see to the salvation of my soul. St. Ann, by your influence with Mary's son Jesus, you have won the gift of conversion for many sinners. Will you then abandon me, who have chosen you as my mother? No, St. Ann. Your name alone, which signifies grace, assures me of the help of your prayers, and these prayers will surely procure pardon and mercy from Jesus. You will pray for me now and at the hour of my death.
Great Saint Anne, how far I am from resembling you. I so easily give way to impatience and discouragement; and so easily give up praying when God does not at once answer my request. Prayer is the key to all heavenly treasures and I cannot pray, because my weak faith and lack of confidence fail me at the slightest delay of divine mercy. O my powerful Protectress, come to my aid, listen to my petition (mention your request). Make my confidence and fervor, supported by the promise of Jesus Christ, redouble in proportion as the trial to which God in His goodness subjects me is prolonged, that I may obtain like you more than I can venture to ask for. In the future I will remember that I am made for heaven and not for earth; for eternity and not for time; that consequently I must ask, above all, the salvation of my soul which is assured to all who pray properly and who persevere in Pray. Amen.