Last week we listed the first five of the "financial must-do's" for young adults in their 20's. Building solid financial habits, especially in your 20's, is so important for long-term financial success. Here are the final five of the 10 financial must-do's for laying a good foundation: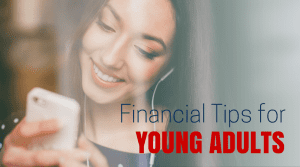 Start Saving for Retirement – This generation may be the first generation to have to save for retirement for as long as their work career.
Build Up Your Credit History – Having no credit is as bad as having bad credit. You may need to take on some debt to show how well you can manage it.
Quit the Bank of Mom and Dad – What better way to show your parents that you love them than to set them free of your financial responsibilities?
Clean Up Your Online Presence – Time to put down the red cups or at least scrub them from your public image. Get your digital act together by searching for yourself online and seeing what your current or future employers will see.
Get Your Key Financial Documents in Order – You – not your parents – should have your birth certificate, Social Security card, and other official ID's in your possession. Keep a list of bank accounts, insurance policies, and of course usernames and passwords.
We hope you have learned something that will help you or someone you love!