What is CRHP? Christ Renews His Parish, often pronounced "Chirp" is a weekend retreat designed to bring parish members together in Christ and emphasizes continued growth in Christian life. During the weekend you will find love and laughter, great food and friendship, and a renewed sense of belonging to this parish.
When and where do the weekends take place? Separate retreat weekends for men and women are held at the St. Ann Parish. Look for upcoming our dates. The weekend will be an enjoyable experience for you. It will include some group activities and interactions, some prayer together and reflections shared by members of the presenting team.
You can expect an opportunity, in a relaxed setting, to hear Christ's call to you and to respond to a deeper and closer relationship with Him.
For more information, call the parish center at 513 521-8440.
---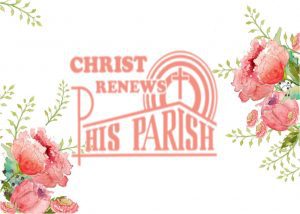 Women's "Christ Renews His Parish"
Thanks to all who attended our 2019 women's CRHP retreat. Upcoming retreat is March 14-15, 2020.
For our retreats:
– The parish will provide the meals.
– There is no cost to you.
– Mass is celebrated on Sunday
– Reconciliation will be available on Saturday evening
For more information and to register, contact Cindy Withrow at 513 521-8440 or e-mail cwithrow@saintannparish.org.
The Men's "Christ Renews His Parish" Retreat will be November 16th. For more information, contact the parish office at 513 521-8440.