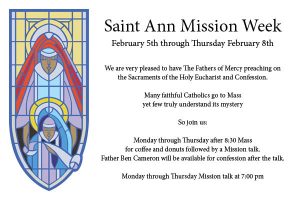 Mission Week is coming… Reserve time for this blessed event.
Monday – Thursday, February 5th – 8th.
We are very pleased to have Fr. Ben Cameron of The Fathers of Mercy here to lead the mission. The primary Apostolate of The Fathers of Mercy is preaching parish missions and retreats. The emphasis will be on the Sacraments of Holy Eucharist and Confession. Father will also provide insights to the celebration of the Mass.
Mornings, after 8:30 Mass, join us for coffee and donuts followed by the Mission talk. Fr. Cameron will be available for confession after his talk.
Evenings, Mission Talk will be at 7:00 pm, Monday through Thursday. Confessions will be available before the evening talks, 6:00-7:00 pm.