According to data released by Facebook last year, the average American user of the popular social media site spends 50 minutes a day perusing the site either on desktop of mobile device, or browsing one of its other associated platforms. 50 minutes a day.
I can actually believe this because I spend time for both work and personal enjoyment on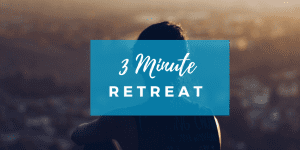 Facebook. My guess is that if you are reading this, it is because you saw it on Facebook.
But I also recently read an article about how people manage their time. It turns out a lot of us are not using our time as we perceive we are using it. In fact, we are mismanaging our time. So let me be the first to raise my hand and say, guilty as charged.
I walk around lamenting, "I'm so busy, I have no time." The reality is that if you fall into the 18-34 age group, (okay so I'm a little beyond 34 but I just haven't yet accepted that I've graduated into the next age bracket) you are potentially spending an hour of your life on social media.
Maybe I am spending that hour reading about friends lives, their daily ups and downs, their family report, the news, searching for local events- but when I say I'm just too busy to spend any time in prayer on a certain day, I have to say, that's not really true.
It's part of the all or nothing thinking that plagues me. Unless I have the entire day free, with no tasks or work on my list, with childcare set up, I don't have any time for a retreat. Either I'm all in like hermit or I'm just disconnected. It's a struggle to find my middle ground.
Imagine my sheer delight, when discovering (through Facebook, naturally) the 3 minute retreat from Loyola Press. They are awesome! Available through the Loyola Press website, and also in the app store– for all your folks who love your iPhone like I do- it's a series of slides that focus on a single thought through scripture, with focused questions for mediation and prayer. And it's available in both English and Spanish!
I took some pictures of the slides so you could see how it works. It's really simple and you either have calm, meditative music or not. I think the silence option is really nice, because it makes it possible to spend these 3 minutes in any public space. I have spent a couple of the se 3 minute retreats in the grocery store parking lot in my car, simply because that where I found myself with time, the quiet and the attention.
Okay, so check this out. This 3 minute retreat was "I Forgive You."
Here's some screenshots of how it works. (This is from my iPhone. It may look different on your desktop, laptop or tablet.)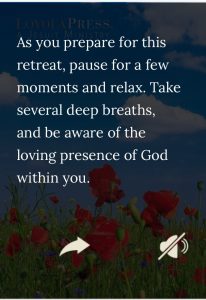 After you are centered and focused, the scripture is always first. So on this particular retreat the scripture was Matthew 18:21-22.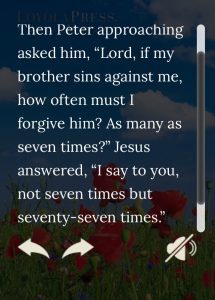 After the scripture there is a series of questions to meditate and pray about.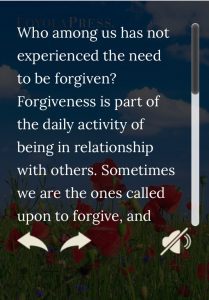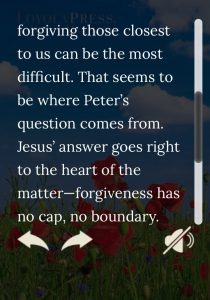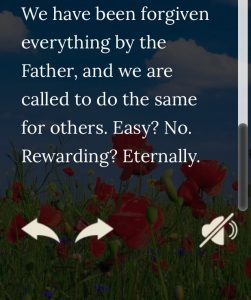 Finally we are asked to open ourselves up to the harder questions.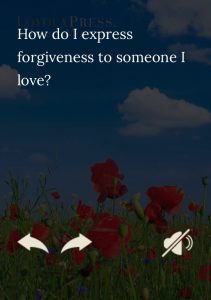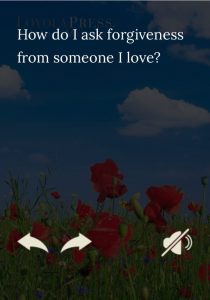 On the last slide there is always a beautiful prayer or time for your own prayer.
Like I said, it's an amazing little meditation that takes on 3 minutes (or more depending on what you need that day) and it's available online or in the app store. You can even have them emailed to you! (Although, if your inbox looks anything like mine, you'll probably skip this option.)
I promise you will not be disappointed!
An amazing 3 minute retreat is waiting for you.
*****
St. Ann's weekend masses, Saturday 4:30pm Vigil, Sunday 8:00am, 9:45am and 11:30am.
For more information on St. Ann's Mass Schedule, visit our Web Site!