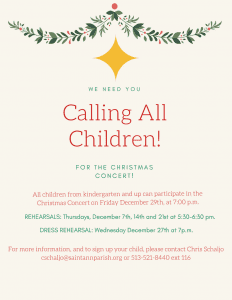 Advent is upon us, and our Music Director, Chris Schaljo is working on the programming for our Christmas Concert.
This year the concert takes place on Friday December 29th at 7:00 p.m.
We hope that every single school aged child in our congregation sings in this concert. There is also the opportunity for children to recite scripture as narration throughout the concert.
Children will attend 3 rehearsals and a dress rehearsal, although missing a rehearsal shouldn't keep any child from participating.  If you'd like to sign up your children, or need more information, please contact Chris at cschaljo@saintannparish.org  or call 513-521-8440 ext 116.
P.S. We heard it through the grapevine that a very special visitor will be making an appearance.  This year's concert is sure to be an evening you won't want to miss!