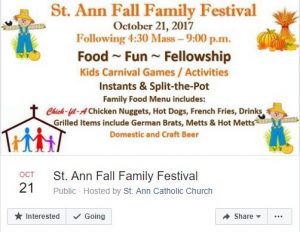 You looked forward to and enjoyed the festivals growing up as a member of Saint Ann.
The Fall festivals hold special memories as you saw the Saint Ann community coming together for food, fun and fellowship. You can not help but have a great time seeing adults mingling and children playing together.
The food and cheer is always good too.
This year, the Fall festival is returning October 21st. Let's get a crowd together reminding us "We are Saint Ann".
Saint Ann Fall Family Festival, October 21st, following 4:30 Mass to 9:00pm