You really do not know what to expect when you are asked to be a waiter on Ladies Night. And, we did not know what BUNCO is which added to the curiosity. However, it turned out to be an enjoyable evening.
The ladies playing their dice game were competitive but constantly laughing and enjoying themselves. Food and drinks compliments of their waiters flowed and the ladies were quick to recognize us with their tips which we appreciated. Tips went to the evening's proceeds. However, the top "tip getter" was BUNCO king.
The ladies may sign up for the evening very quickly selling it out but the guys hope they get to be the waiters again too. And, everyone has a wonderful, fun evening.
Ladies Bunco Night
Saturday, March 3. Gathering space opens @ 6:30pm, door to the gym at 7pm and the dice roll at 7:30pm.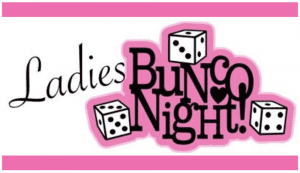 Tickets are $20.00 and will be sold on Feb 17-18 and Feb. 24-25 in the gathering space. Included in admission price – appetizers, desserts, drinks (beer, wine, coffee, soft drinks)Limited tickets available – last year we sold out and sadly had to turn people away.
If someone needs tickets and cannot get them on these weekends, they can call the parish office or email coupleacooks@gmail.com or text 513 293-4041.
In addition to playing Bunco, there will also be 2 Split the Pot games and a basket raffle.