Worry is one of Satan's greatest tools. It diverts our focus away from Jesus and toward our problems.
The word "worry" is of West Germanic origin; in Old English it is wyrgan, meaning 'strangle.' And that is what worry does – it strangles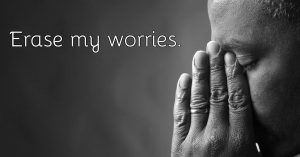 us. Our waking and our sleeping, our work and our leisure time, all are compromised when we are preoccupied with worry.
Often, we get so focused on the problem that we fail to see how God is working in our lives. In fact, God commands us not to worry, but to trust Him. (Joshua 1:9) In Matthew 6:25-34, Jesus asks, "Can any one of you, by worrying, add a single hour to your life?"
And remember the story of His visit to Martha and Mary? Mary is sitting at His feet while Martha bustles around and asks Jesus to tell Mary to help her. Instead, Jesus says, "Martha, Martha, you are anxious and worried about many things. There is need of only one thing. Mary has chosen the better part, and it will not be taken from her." (Luke 10:41-42) In other words, Mary chose to forgo the "concerns" of hostessing and focus on Jesus.
So when you find yourself lying awake worrying about your health, your children, your finances, or something else, remember the words of our Lord and choose the better part. . . focus on Him!