SATURDAY, OCTOBER 20
St. Ann Fall Family Festival
After 4:00 Mass – 9:00 p.m.
Food – Fun – Fellowship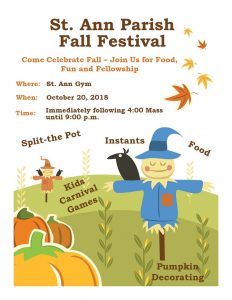 Family Food Menu includes:
Nuggets, french fries, brats, metts, hot dogs, green beans, cookies and more!
$3.00 kids meals available with choice of hot dog or 5 Chick-fil-A nuggets,
fries & drink.
Both domestic and craft/seasonal beers will be available for purchase.
Face painting, balloon artist, carnival games for the kids & pumpkin decorating.
Split the Pot & instants!
We are asking parishioners to use their gift of baking cookies for this event. We will have more details next week.
Help Needed for Set-Up, Serving & Clean-Up
Please contact Claudia Sajnog @ 521-8440 or csajnog@saintannparish.org if you can help.
To our High School Parishioners: If you are looking for service hours, we need you to help with the
Kids Carnival Games. Contact Claudia to sign-up!