Meet Ethan Hoying, the seminarian with us right now…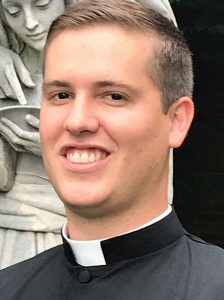 "I extend my gratitude and appreciation to St. Ann's for the warm welcome and generous hospitality with which this vibrant community has greeted me in my first months.
Prior to entering seminary, I grew up on a small family farm outside the town of Russia (pronounced Roo-she), Ohio where I graduated from Russia K-12 Public School in 2013. My parents are Mark and Gina Hoying and my grandparents are Francis and Leola Hoying and the late Marion and Emily Grillot, all of Russia, OH. 
I have two brothers and a sister. I am also fortunate to have two little nieces. 
My family and I are members of St. Remy Parish.
I graduated in May 2017 with a B.A. in honors philosophy from the Pontifical College Josephinum in Columbus, Ohio. Founded in 1888, the Josephinum is one of the two college seminary programs of which the Archdiocese of Cincinnati sponsors college-level seminarians (the other is Bishop Simon Brute College Seminary in Indianapolis). Uniquely, as the only pontifical seminary outside of Italy, the Josephinum is a pontifical institution which is not under the governance of any diocesan bishop, but is instead immediately subject to the Holy See, through the Apostolic Nuncio to the United States.
Upon graduation from the Josephinum, I entered major seminary in August 2017 at Mount Saint Mary's Seminary of the West, the Athenaeum of Ohio. Founded in 1829 by Bishop Fenwick, Mount Saint Mary's is our archdiocesan seminary and the place where I have called home for the past two years. In total, I have been a seminarian now for six years, and I have three more years (including this year) until priestly ordination.
It is with great joy that I will spend the next year at St. Ann as part of my priestly formation. In addition to gaining valuable parish experience, I look 
forward to personally getting to know many of you over the next several months. Please keep me in your prayers and trust in my prayers for the St. Ann parish family. May God bless you for your generous support.