I would like to suggest something different this New Year. As stewards we talk about and live gratitude; we strive to make that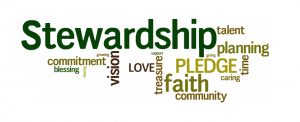 foundational in our lives. We are thankful for all we have received and we have a great desire to give. But do we make opportunities for others to give? Are we receptive to their giving? Maria Bolding, an English Benedictine nun who died in 2009, spoke of this in her
final illness. She describes herself in the prologue to her last book, Gateway to Resurrection, as "…like a helpless child who has nothing to give except its need." At that stage in her life she was finally able to accept with gratitude the gifts that others offered her. She was able to receive. As we enter this New Year, can we pledge to be open to receiving the gifts that others offer to us? Can we be grateful for these, too? Having an attitude of receiving as well as giving will mean that a greater number of people will be able to fully use the gifts that God has given them – and allow each of us to be grateful for a greater range of gifts, not just those we recognize and use, but also those that we receive. In this way we can fully live what Saint John Paul II wrote about in Novo Millennio Ineunte (At the Beginning of the New Millennium), when he asserted: "A spirituality of communion implies also the ability to see what is positive in others, to welcome it and prize it as a gift from God: not only as a gift for the brother or sister who has received it directly, but also as a 'gift for me'" (#43).