Comments about Sweetest Day, or for that matter Valentine's Day and sometimes even Christmas, are often times about their commercialization. Hallmark Holidays some people call them. Yet, we know their origins could mean so much more.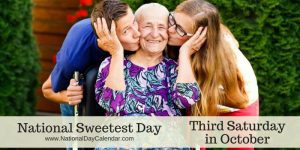 The holiday that has the obvious connection to our Catholic roots is Christmas. We are constantly being reminded that the holiday is not about gifts but giving. It is a shame the true meaning of a special day can be lost or at the very least diluted. For example, consider the origins of Sweetest Day…
"Observed the 3rd Saturday in the month of October, Sweetest Day observance originated in Cleveland in 1922. Herbert Birch Kingston, a philanthropist and candy company employee wanted to bring happiness into the lives of orphans, shut-ins and others who were forgotten. With the help of friends, he began to distribute candy and small gifts to the underprivileged. A movie star, Theda Bara, distributed 10,000 boxes of candy to people in Cleveland hospitals and also gave candy to all who came to watch her film in a local theater." (www.theromantic.com/sweetestday.htm)
Let's look at all days of celebration more closely. Look up their meaning. And, hold onto the ones that are expressions of our Catholic faith and works of charity for others. Your expression of giving will bring a true sense of caring to those close to you and would evangelize your faith and beliefs to all.