Last Advent I was given the gift of preparing for Christmas in a new, very real way. I was very pregnant with my second child and due not long after Christmas. Being pregnant along the same timeline as Mary gave a whole new, very real meaning to what we are preparing for: a real human baby, the One who has saved the world.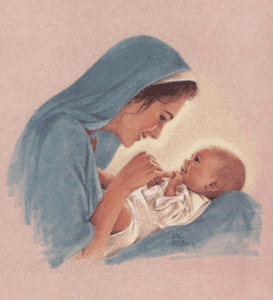 As I was nesting and preparing for the birth of my child, I couldn't help but love Mary that much more imagining her preparing for her baby, cleaning her home and getting it ready to welcome this precious child. As I spent evenings watching my little baby doing somersaults in my womb wondering who they would be, I couldn't help but love Mary that much more imagining her doing the same as she carried Our Lord, knowing that he would be the Messiah but not knowing what that would mean for her precious little child. And as I'd waddle around as baby grew, I couldn't help but love Mary that much more imagining her having to go on a journey, riding a donkey (ouch!) not knowing when or where she'd bring this little person into the world.
This year as I pull out each little piece of Christmas in my home and participate in all the beautiful and fun traditions of the season I realize it's really no different than the preparations I was
making for my son last year. Each decoration is no different than putting together a crib or washing tiny little outfits. Each time I log onto Amazon to get the next gift is no different than packing a hospital bag. Each cookie I bake is no different than the freezer meals I made for after his birth. Each trip to see Christmas lights is no different than the conversations my husband and I had about what to name this person. Each evening enjoying the quiet anticipation of the season is no different than those quiet nights last year wondering who this baby would be, and being so excited to spend the rest of our lives getting to know him. And all these things are done not for my child this year but for the child that Mary carries, the child that she so faithfully said yes to, knowing he was God and it was God's will, but not knowing who he would be; loving him completely long before she ever held him in her arms. And so all of these things, the decorating, the shopping, the baking, the traditions, the excitement and anticipation, each become a beautiful prayer to get my heart and home ready for a real person to come live with us, the Messiah.
I pray that this season of Advent will always draw me back to the excitement and anticipation I experienced last year, and that I will always long to meet this baby, our Savior, and spend the rest of my life getting to know and love Him more.
Danielle Hart, Sacramental Coordinator