Father will actually be with us for two years while he is completing his studies at the seminary. Fr. Mandlenkosi John Ndlovu was born in
Bulawayo, Zimbabwe on November 23, 1980 to Themba Ndlovu and the late Cathrine Lulu Nkomo. He was baptized on May 25,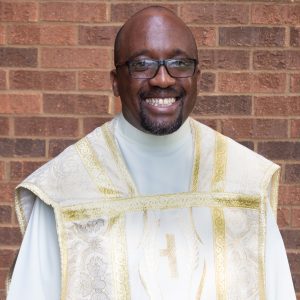 1985 and confirmed on December 19, 1993. Fr. John has studied extensively. He attended Fusi primary school, St. Bernard high school, Mazowe House of Human and Spiritual Formation, St. Augustine Philosphy Seminary, Sts. John Fisher and Thomas More
Theology Seminary, and the University of Zimbabwe. In September 2000 Fr. John joined the seminary in Mazowe for the Archdiocese of Bulaway. He received a diploma in philosophy by St. Augustine Philosophy Seminary in June 2004 and commenced studies in
theology and religion. In 2010 he received a bachelor's degree in religious studies from the University of Zimbabwe and a degree in theology from Saints John Fisher and Thomas More Theology Seminary in Harare. Fr. John's pastoral internship began in 2011 at
St. Adolph Ludigo parish in Magwegwe, Bulawayo. He  was ordained a deacon in January 2012 and a priest in
July the same year, both by Archbishop Alexander Thomas Kaliyanil, SVD. He was then assigned to St. Francis Xavier parish, the first Catholic mission in Zimbabwe; five months later, he was assigned to St. Patrick Mission in Bulawayo. Father John arrived in Cincinnati in August 2018 for further studies at the Seminary. Upon completion, he will be a Professor of Church History at the seminary
in Zimbabwe.
**************************************************************************
Fr. Thomas Wray is a convert to the Catholic Church from the Episcopal Church. He was ordained a priest of the Archdiocese of
Cincinnati by Archbishop Schnurr in 2015. He served Episcopal churches in Chicago and Cincinnati for 20 years before answering a call to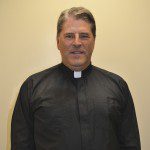 enter into full communion in the Catholic Church. After many years' discernment and study, he came to find the source and summit of everything he most loved in the Episcopal Church was in the Roman Catholic Church! Fr. Tom recently completed a 3-year term as
Director of the Office for Evangelization and Discipleship for the Archdiocese of Cincinnati. There he assisted Archbishop Schnurr in developing the new online Archdiocesan Catechetical Institute, Vocare. He now hopes to spend more time with his family and
become more involved in parish ministry. His undergraduate degree is from Wheaton College, Chicago. His Masters of Divinity is from
Seabury Western Seminary in Chicago and his doctoral coursework is from Catholic Theological Union, Chicago. His Catholic Studies Pastoral Provision Certificate is from Immaculate Conception Seminary at Seton Hall University. He and his wife, Dr. Janet Wray, live in Madeira. Their two grown children, Kathleen and James, are in graduate school and undergraduate school, respectively. In his spare
time he enjoys fishing, golf and barbecue.