Watch the video, Shroud of Turin, found on FORM by clicking the link below:
The Shroud of Turin "Form" Video (Run time: 47 mintes)
The Shroud of Turin or Turin Shroud is a length of linen cloth bearing the negative image of a man some believe to be Jesus of Nazareth.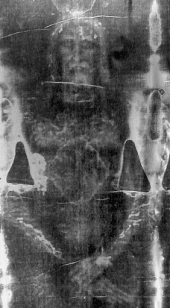 It is kept in the Chapel of the Holy Shroud, which is located within a complex of buildings which includes the Turin Cathedral. The cloth itself is believed by some to be the burial shroud that Jesus was wrapped in when he was buried after crucifixion.
The Catholic Church has neither formally endorsed nor rejected the shroud, but in 1958 Pope Pius XII approved of the image in association with the devotion to the Holy Face of Jesus.[1] Pope John Paul II called the Shroud "a mirror of the Gospel". Other Christian denominations, such as Anglicans and Methodists, have also shown devotion to the Shroud of Turin.
The image on the shroud is much clearer in black-and-white negative than in its natural sepia color, and this negative image was first observed in 1898 on the reverse photographic plate of amateur photographer Secondo Pia, who was allowed to photograph it while it was being exhibited. A variety of methods have been proposed for the formation of the image, but the actual method used has not yet been conclusively identified.
Commissioned by the BBC in 2008, twenty years after the C14 test that cast a shadow over Shroud research, this film looks at how that test stands up against the weight of other evidence from history, archaeology, forensic medicine, art, and 3D analysis. It is the first film production to have direct access to film the Shroud in high definition.