On March 10, during Mass+, we are hosting a talk on Stewardship. I am sure that your first thought was money. That is not entirely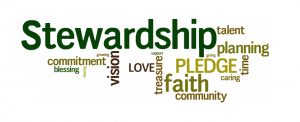 wrong, since how we choose to use our treasure is one little part of stewardship. But we have also heard that stewardship includes the sharing of our Time, Talent & Treasure.
Come join us to explore how living as a steward of God's gifts can change your life and the life of the Church. Learn more on how living a life of gratitude will bring you into a closer personal relationship with our Lord.
Session will be held in the Trinity Rooms.